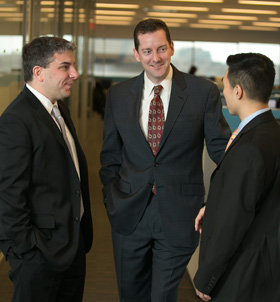 DTCC has a long history of helping to ensure the stability of global financial markets. Today, the company is building on that history, evolving how it approaches its role in the industry and redefining how it supports its clients. The new paradigm DTCC is creating will enable it to take on a broader role in promoting industry stability and focus resources on helping clients better manage their costs.

As a global financial services leader, we proactively develop solutions to secure today's marketplace, while shaping the future of our industry. We promise to stand at the forefront of innovation to mitigate risk, create market efficiencies and reduce costs.

Underpinning this promise to the industry are three Strategic Pillars that support DTCC's brand. These pillars convey DTCC's value to the financial industry and serve as guideposts for leading the company forward.
DTCC takes its vital role as the backbone of the financial markets to heart. The company has been battle-tested by the global financial industry for more than 40 years. As a trusted leader, DTCC provides solutions to safeguard the markets and instill confidence in the future. DTCC will continue to build on the trust it has earned with stakeholders and strengthen that trust for decades to come.
DTCC's broad perspective of the markets gives the company a unique vantage point to provide critical insights and drive innovative industry solutions. In an ever-changing world, DTCC anticipates the markets' needs and cultivates ideas that help mitigate risk, reduce costs and create efficiencies.
As a proactive and objective partner, DTCC collaborates with stakeholders to solve today's challenges and meet the demands of an evolving marketplace.