Through its subsidiary National Securities Clearing Corporation, DTCC provides automated processing and information services for the funds, alternative investment and insurance industries, offering seamless end-to-end communications with its distribution partners to deliver risk and cost reduction, along with operational efficiencies. These services also help clients meet regulatory compliance requirements efficiently and cost-effectively.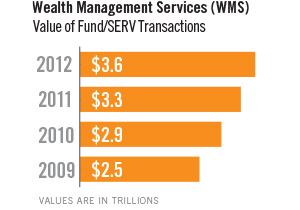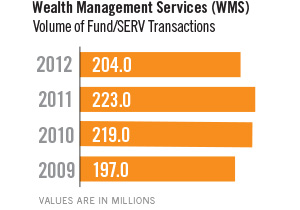 Wealth Management Services (WMS) continued to leverage the DTCC hallmarks of automation, standardization and centralization to benefit and advance the Mutual Funds and Alternative Investment Products markets in 2012.
Anticipating firms' increasingly complex processing needs resulting from the industry trend toward omnibus accounting, WMS continued to build out its services to meet these operational challenges. To supplement the current suite of omni-services, WMS finalized plans to regenerate the Mutual Funds Commission Settlement as a new, more robust service, DTCC Payment aXis. This new service, to be delivered in 2013, will streamline the processing and settlement of invoices, commissions and fees, enhancing the efficiencies and operational risk mitigation of the existing practice.
WMS also continued to focus on the multitrillion-dollar retirement market in response to expanding client demands and new regulatory requirements. With the retirement market now the most dominant segment of the industry, WMS prepared to deploy system enhancements to several of its Mutual Funds services. The enhancements will bring transparency to retirement plan accounts and facilitate compliance with new U.S. Department of Labor reporting rules.
Also in 2012, WMS created the DTCC Global Funds Working Group to enhance understanding of WMS capabilities outside the U.S. and foster global best practices in non-U.S. markets. The Working Group includes representatives of leading fund companies, advisory firms and distributors.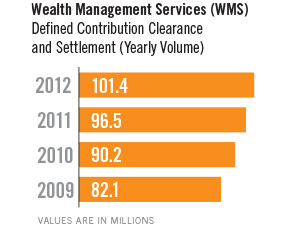 The WMS Alternative Investment Products (AIP) service links global market participants, including institutional investors, fund managers, broker/dealers, administrators and custodians, to deliver straight-through end-to-end processing of alternative investments.
The service more than doubled its membership, to nearly 60 firms, and increased the number of transactions processed to more than 700,000 a month in 2012. During that time, the Securities and Exchange Commission (SEC) granted eagerly anticipated no-action relief, effectively permitting registered broker/dealer AIP members to designate another AIP member as a "good control location" to satisfy their SEC Rule 15c3-3 obligation. This rule regulates the way broker/dealers handle fully paid securities and excess-margin securities carried in the accounts of customers. With this development, broker/dealer customers' assets invested in alternative investment products eligible for processing in AIP can be included with all other assets in their overall portfolios.
In order to continue broadening the adoption of AIP and establish it as an industry best practice, DTCC gathered leaders from the hedge fund industry to form a Global Administrators Executive Advisory Board (EAB) and a Fund of Hedge Funds Executive Advisory Board. The EAB members are senior-level executives representing the market's leading organizations.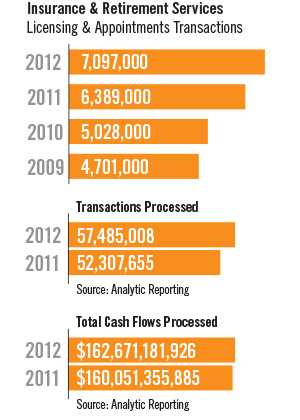 DTCC's Insurance & Retirement Services (I&RS), which marked its 15th anniversary in 2012, acts as a central hub for insurance transactions. It pioneers products and services that enable the industry to lower risks and costs, while speeding transaction processing via a secure, centralized infrastructure.

I&RS made significant progress in 2012 building out its Producer Management Portal – a key tool that will help the industry meet new regulatory requirements proposed by the National Association of Insurance Commissioners in a more cost-effective and efficient manner. The Portal will serve as a central repository holding comprehensive training validations and give the industry real-time access to notifications, training and other data to help verify and report on producer training completions and authorizations.
As part of this initiative, I&RS finalized enhancements to the Licensing & Appointments service in 2012 to bring greater efficiency to insurance companies, allowing them to track and confirm whether producers are trained and certified to sell specific annuity products. These enhancements will be completed with the launch of the portal in mid-2013.

I&RS provided industry leadership in 2012 by bringing together top executives from the carrier and distribution sides of the business for its first-ever Life Insurance Forum.
During the two-day event, firms engaged in active discussion to identify the industry's leading issues and collaborate on potential solutions. As a result of this engagement, I&RS will continue to work with firms to target potential areas where DTCC's strengths in standardization and automation will bring process efficiencies and business value.